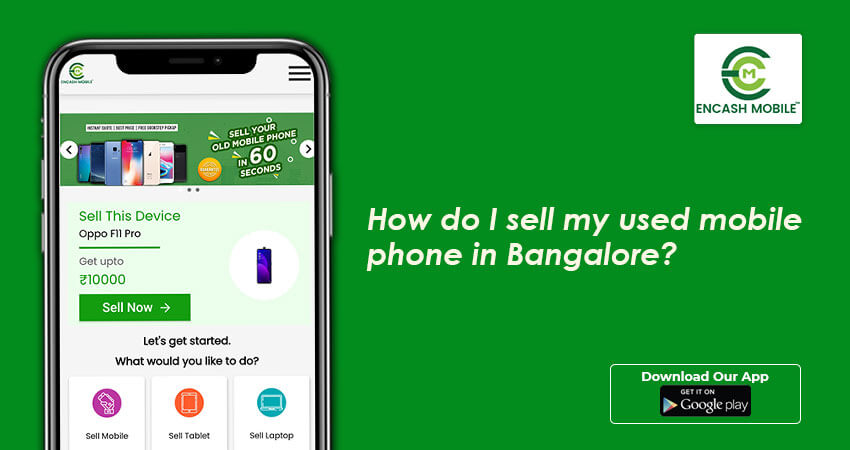 How do I sell my used mobile phone in Bangalore?
Selling old phone online Is Not an Easy Task To Do, When You Have To Find The Right Customer For Your Phone Who Offers You A Better Price. Now You Can Do The Same In An Easy Manner Through Encash Mobile website. With our easy doorstep pickup service, we can help you sell your phone online in the comfort of your own home. When You sell phone Online On Encash Mobile, You Unlock Yourself A Comfortable Deal That Brings You The Best Price For Your Smartphone. We're sure you'll be happily surprised by the amazing pricing we offer, and We're absolutely sure you'll be amazed with the simplicity and speed of our service.
We're here to help you recycle your phone. Whether you want to sell your iPhone online to upgrade to the latest Apple smartphone or want to trade in an old Android device for the latest Samsung.
If you want to sell your phone to Encash Mobile, it's as simple as:
1. Search Your Device in Encash Mobile Website
Visit our website using your PC or Mobile and find the Phone/Laptop that you wish to sell / recycle
2. Get an Instant Quote
Answer few questions on your device condition and get instant quote.
3. Place Pick Up Order
To place an order with us, please provide your contact information and select your chosen pick-up day and time period
4. Get A Pickup Call
Pick up executive will call you for door step pick up of your device.
5. Fast Same Day Payment
Get paid instantly on successful diagnosis of device and verification of your identity. Our price promise guarantees that you get the full price quoted.
Why Sell Old Mobile With Encash Mobile?
✅Instant Cash!
✅ Best Prices!
✅ Free Pick Up

To Sell Your Old Phone, Visit Our Website at www.encashmobile.in or Download Our App Today. Call: +91 98451 11229
Tags: online sell old laptop in Bangalore, sell used mobile phone Bangalore, sell used laptop online in Bangalore, sell mobile phone, sell old Used smartphone